I feel as though I was truly blessed to have the opportunity to work with short-track racing legend Dick Trickle during the 1989 season.
Called in to take over for the injured Mike Alexander at Rockingham after the season-opening Daytona 500, Dick was a beer sponsor's dream. He had already been backed by Pabst and Coors Light in his racing in the Midwest, so he adapted quickly in helping promote Miller High Life. The Wisconsin driver brought home the rookie-of-the-year award for the Wisconsin-based sponsor that season.
We only worked 28 races together, yet there are so many stories to tell. There were all those wise sayings he had accumulated through the years; "Trickle-isms" as I referred to them. There was his first race when his cowboy boot caused his throttle foot to swell. There was the media day (and night) we had at the fall Atlanta race. The "Trickle Takes Manhattan" episode…our trip to the Minnesota State Fair…just so many great times. There is only enough space to expand on one story in this writing, so here goes:
Dick had finished in the top-five in four of his first seven races as the driver of the No. 84 Miller High Life Buick for Stavola Brothers Racing. He had finished third in the spring race at Martinsville, so we came back in for the fall race with high expectations. The whole team, Tickle included, was staying at the Dutch Inn. This was the race when Hurricane Hugo had passed through the Carolinas and Jimmy Hensley put Dale Earnhardt's Chevy on the pole. Trickle had qualified fifth for our best starting spot all year. I was trying to do the best job I could for the team…on and off the track. My wife, Joni, was helping me work with Alan Kulwicki and the Zerex account that season and was with me that weekend for the race. The Saturday night before the race, we decided to check out the bar before heading out for an early dinner. We were enjoying an adult beverage when Trickle came in and started mingling with the patrons as usual. I tried for at least 30 minutes to talk him into going out to eat with us and getting some shut-eye.
Dick had finally heard enough of my pestering and informed me that he was not going and to not worry about him. "I don't want to eat yet," he said. "If I eat a big meal, I'll get sleepy and I don't need to be going to bed early." It was the first time that he personally informed me that he only needed an hour of sleep for each 100 laps of the next day's race. He honestly told me that with a straight face. As it turns out, that was probably the accurate amount of sleep he got that night. Joni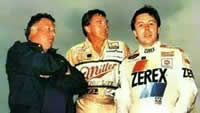 and I had a room on the front side of the hotel facing US 220. Just after 2:00 a.m., we were awakened by someone yelling "Fire it up," followed by a loud engine roar. I told Joni, "That sounded like Trickle." I got up and looked out the window. I was right. I thought I better put my clothes on and get out there before the complaints started coming in and the cops arrived. When I got out in the parking lot, there was Dick with his head under the hood of a car and with the typical cigarette hanging out of his mouth. I stuck my head under the hood with him. Before I got, "What the hell are you doing out here" out of my mouth, all he did was laugh and say, "TR, I promise you I will call it a night and go to bed just as soon as I get this young man taken care of." Turns out he met the kid in the bar just before closing time. The kid told him about a strange "clicking noise" his car's engine was making and Dick agreed to look at it first-hand and see if he could diagnose the problem. I relented, went back inside and heard only one more "Fire it up!" before the car drove away and there was silence. The next morning Dick showed up at the track right on time with his usual drive-thru breakfast bag from McDonalds. He had ample time to get to the drivers' meeting. I was curious and just had to check what his eyes looked like behind his cheap sunglasses. I raised them up off his nose for a peek. His eyes were clear as a bell…not one bit bloodshot like I had suspected. I was so impressed with what I witnessed that afternoon. It was an unseasonably warm September day with the highs near 90 degrees. Rusty Wallace was leading with less than 50 laps to go and was trying to put Earnhardt a lap down. Rusty tried to pass Dale on the high side and almost got stuck in the wall. Darrell Waltrip was able to scoot on by for the lead and he held off Harry Gant for the win. Trickle was catching the leaders when the race ended under the yellow and had to settle for third. Rusty faded to finish fourth and Dale Jarrett finished fifth. The top-five finishers stopped at the Unocal fuel pumps as usual. I remember seeing so many drivers sitting down and recovering from the heat, chugging water and having cold towels wrapped around their necks. Not Trickle. He bounced out of the car, lit him up a smoke and said that he wished they could race another 100 laps. "I had them where I wanted them," he said. I never once questioned Richard Leroy Trickle again after that weekend. He went on to claim the '89 NASCAR Cup rookie title over Larry Pearson and others. We had a helluva time celebrating in New York (Re: "Trickle Takes Manhattan"). The party at the Waldorf (with Rusty winning the championship & Trickle the rookie title) was such a memorable experience. To see two of my all-time greatest short-track heroes claiming the top NASCAR honors in the "Big Apple" was such a thrill.
We didn't make it to Victory Lane on the Cup side in '89, but we did celebrate with many High Life "King Cans" when Dick won the Southwest Tour race at Phoenix that November. (See posted photo) He started ninth and led the final 34 laps in the AC-Delco 300, which also featured the likes of Darrell Waltrip, Ken Schrader, Ron Hornaday, Rick Carelli and many other notables. As you can imagine, much beer was sprayed and consumed in Victory Lane at PIR that afternoon. Among those pictured are TR (at left) Darlene and Dick Trickle (center), "Big Vic" Victor Getzloff (holding trophy) and Dar Saini (then owner of Prototype Racing Engines) on far right.