TR is Tom Roberts, a 30-year veteran motorsports communications specialist. Born, raised & educated in Guntersville, Ala., he received his communications degree from the University of Alabama before launching his motorsports career. After working in race track motorsports communications and residing in Atlanta and Nashville, he "came home again" to Guntersville in 1990. He maintains an office in downtown Guntersville at 2222 Taylor Street, sharing the building with The Advertiser-Gleam, the local newspaper. Through the years, he has been active in racing PR programs for such companies as Miller Brewing, Alltel, Mobil 1, Shell-Pennzoil and many others. He has been instrumental in the careers of many drivers including Bobby Allison, Alan Kulwicki, Rusty Wallace, Dick Trickle and Kurt Busch.
---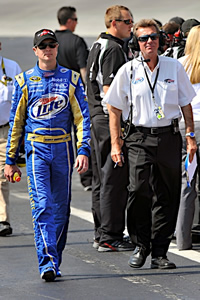 TRPR PROFESSIONAL BACKGROUND
Tom Roberts has shown a level of dedication that is second to none in professional motorsports representation. Between his first race in the official capacity representing Miller Brewing, which came in February 1984, until June 2002, he worked 539 consecutive NASCAR Cup races representing sponsors, drivers and teams.
Represented major team sponsor Miller Brewing Company and its sponsored teams and drivers during the entire period.
In association with Miller Brewing Company, has represented the following drivers:
1) Bobby Allison
2) Greg Sacks - 7/85 - 11/85
3) Bobby Hillin - 12/85 - 11/89
4) Mike Alexander - 6/88 - 6/89
5) Dick Trickle - 2/89 - 12/89
6) Rusty Wallace - 12/89 – 12/05
7) Kurt Busch – 12/05 - 12/2011
OTHER PROFESSIONAL HIGHLIGHTS:
Became close personal friend and confidante of Alan Kulwicki in 1982 and served as his public relations manager and publicist from his 1986 run to the Winston Cup rookie title until his death on April 1, 1993.
Publicity "ghost-writer" for driver Matt Kenseth and his Reiser Racing BGN team 9/1/98 - 11/30/98.
Assistant Public Relations Director and Director of Public Relations at Atlanta International Raceway (now Atlanta Motor Speedway) 1980-1981.
Assistant General Manager and Director of Public Relations at Nashville International Raceway (now Nashville Speedway USA) 1982-1983.
While at Nashville track, also served as publicist for track champion Sterling Marlin in his successful bid for the 1983 Winston Cup rookie title.
His company, TRPR, has handled publicity effort for Miller
Brewing-sponsored drivers since beginning of 1984 season. Other clients have included Quincy¹s Steak House, Hooter¹s, Mead Paper and others.
Along the way, Roberts has shared in many success stories, including these accomplishments and honors:
NASCAR Winston Cup Rookie-of-the-Year titles with Sterling Marlin, Alan Kulwicki, Dick Trickle & Ryan Newman
1992 NASCAR Winston Cup championship title with Alan Kulwicki
1988 Daytona 500 win with Bobby Allison
Three ARCA championships with Tim Steele
1993 University of Alabama School of Communication "Alumnus of the Year"
1990-2005 with Rusty Wallace which has reaped overwhelming publicity and exposure off the track...while enjoying tremendous on-track success
2001-2003 also with rising star Ryan Newman, running successful ³ABC² schedule the first season. Won 2 races (New Hampshire & The Winston) and rookie-of-the-year title in 2002 and incredible eight-win season of 2003.
--Worked side-by-side with legendary driver Rusty Wallace until he retired at the end of the 2005 NASCAR season capping off a succefful and exciting 16-year stint as his publicist and consultant.
--Began working with Kurt Busch as publicist/advisor for his No. 2 Miller Lite/Penske Racing Team in Dec. 2005 and continues to enjoy that position today...