It was 20 years ago today (April 1, 1993) that we lost Alan Kulwicki, NASCAR's version of "The People's Champion." Alan came from humble beginnings and persevered what could have been a devastating childhood. His mother died when he was in the second grade. He, his father and his brother lived with his grandmother until he was in the seventh grade when his grandmother died. His brother, a hemophiliac, died a year later. His dad, Gerald, was a top engine builder on the USAC racing circuit. He did not actively encourage Alan to go racing. "He knew how difficult it was to be successful," Alan later reflected. "He did little to promote my career and never invested any of his own money in my racing. I don't want to paint a bad picture that my dad did a bad job of raising me. I could always go and ask him questions. The bottom line was that he didn't want me to get hurt. I was all he had left."
Alan started racing go-karts during his freshman year at Pius High School in Milwaukee. When he stopped playing high school football to spend more time on his racing, "I wasn't looked at as being a cool guy anymore," he later said. He started racing stock cars in 1974. He mixed getting his college degree (BS in Mechanical Engineering from University of Wisconsin/Milwaukee) and racing until 1977 and mixed a potential engineering career and racing through 1979. After winning track championships at Slinger and Kaukauna, he chose racing full-time. Following five seasons on the American Speed Association tour (which produced five wins, 12 poles and three top-five points finishes), he headed south to pursue his dream of being a NASCAR regular.
In 1985, Alan sold his short-track equipment and moved to the Carolinas. His pickup truck was loaded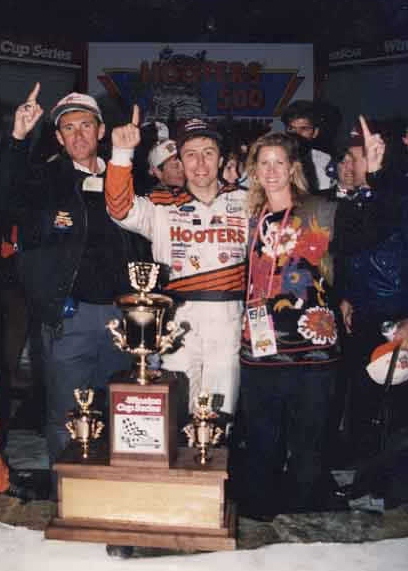 to tow a trailer full of furniture and his tools. An electrical fire two days before he left destroyed his truck and he had to borrow another in order to make his big move. Once he made it to the south, he at first tried driving for someone else. That lasted only six races before he bought the equipment and set out on his own. In only 201 races doing things as driver and car owner, Alan reached the pinnacle of success in winning the 1992 NASCAR Cup championship. The determined, dedicated and definitely different (from the norm) competitor amassed a record of five wins and 24 poles (along with 38 top-five finishes and 75 top-10s) in only 201 races as his own boss. No, Alan's legacy will not be one that boasts the biggest numbers, but his was perhaps the most inspiring career ever in NASCAR history. Against all odds…Alan Kulwicki did it "his way."
* * *
Alan Kulwicki At Atlanta November '92: Celebrating the pinnacle of Kulwicki's success after he won the '92 NASCAR championship at Atlanta on Nov. 15, 1992. Alan led one more lap than race-winner Bill Elliott to claim the bonus points for leading the most laps…which was the difference. Ford Motor Company's party at the Airport Hilton that night became a huge celebration of Alan winning the points title and lasted until the wee hours of Monday morning.
* * *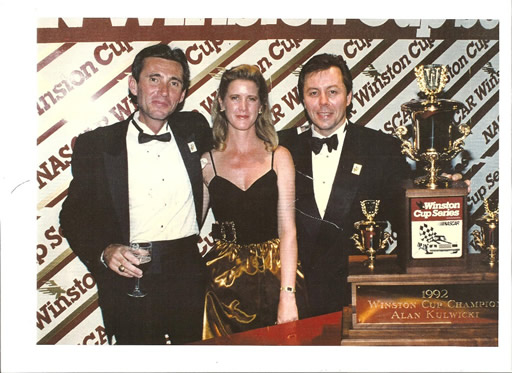 Alan Kulwicki 1992 NASCAR Banquet: The speech that Alan Kulwcki gave at the 1992 banquet at the Waldorf-Astoria in New York will be remembered as perhaps the best ever. Unlike today, when speeches involve scripts and teleprompter practice, Kulwicki huddled with his closest associates only hours before the banquet. With only a few index cards, he penned some major bullet points and spoke from his heart in his impressive delivery. Many will remember the banquet for his theme song, "My Way" by Frank Sinatra. The song will forever represent his career, bringing cheers and applause at the banquet…and tears and sadness at his funeral. Kulwicki's championship party featured the group "Jack Mack & the Heart Attack" and lasted till the wee hours of the morning. The R.J. Reynolds marketing team paid the band extra to play on after the 2:00 a.m. cutoff point. The early morning party scene saw Kulwicki drinking champagne from a slipper and "King" Richard Petty among those dancing in a "conga line."
* * *
Rusty Wallace wins for Alan: Even after the Thursday night tragedy, the show had to go on. After staying at the FBO at Tri-Cities Airport until the wee hours of Friday morning, I tried to sleep unsuccessfully for a couple of hours. I headed to the track and set up shop in track PR director Ron Scalf's office. I was on the phone talking to media members and others from 8:00 a.m. until after 6:00 p.m. without knowing anything that happened inside the track. I didn't know that Rusty had won the pole until crew chief Buddy Parrott told me the news when I got back to the team's hotel in Johnson City. In TR's mind…it was the most important & significant victory he has been part of in 28 years and after 60-plus visits to Victory Lane…including the 1988 Daytona 500. Rusty's win in the April 4, 1993 Food City 500 rates as the most meaningful victory ever to him. Alan was killed in the Thursday night plane crash. Rusty won the pole in Friday qualifying. Under NASCAR rules, the defending series champion received the first spot on pit road entering Turn 1. Rather than leave that stall empty for the race, NASCAR awarded pole-winner Wallace the spot for the race. Rusty won the race in dominant fashion, leading 376 of the 500 laps and taking the victory by 0.82 seconds over rival Dale Earnhardt. After taking the checkered flag, Rusty came to a stop on the frontstretch, turned his Pontiac around and did a "Polish Victory Lap" in honor of his fallen friend and champion, Alan Kulwicki. "There was much more to it than just me behind the wheel of our car here today," Rusty said after climbing from his car in Victory Lane. "It's a big deal to win for my buddy, Alan. We miss him real bad. I don't want my good run to overshadow what happened here this weekend. Alan was a great guy and we will never forget him."
* * *
One of the most therapeutic activities I engaged in following the April 1, 1993, tragedy was taking my friend Dick Berggren's offer to write a story for Stock Car Racing Magazine. It allowed me the opportunity to reflect on my special relationship with Alan. If you never had the opportunity to read that story, I invite you to click on the link and see what came from my heart and through my hands at that time: Story from Stock Car Racing (July 1993)