Follow TRPR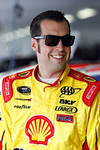 © Copyright 2011
Tom Roberts Public Relations

The best education a person could get regarding professional stock car racing...TRPR received from racing legend Bobby Allison. I had the privilege of serving as BA's PR representative from the beginning of the 1984 NASCAR Winston Cup season until his "forced retirement" due to the Pocono crash in 1988. In our first season, we were gone some 40 weekends on the road...running all the Winston Cup races and selected ASA shows, ALL PRO races and at many unsanctioned events all across the country. We kept sets of Miller High Life decals in the storage compartment of his Piper Aerostar that we used on cars at some of the races. Benny Ertel, now Mark Martin's business manager, acted as BA's "agent" at the time and it was absolutely astounding at just how much racing that we did back then.
One of the most memorable weekends ever spent with BA "on the road" saw him accomplish the following...all in less than three days during one single weekend back in August of 1984:
Friday afternoon - qualified 7th for the Saturday night Cup race.
Friday night - ventured to Asheville, N.C., and finish second in the ALL PRO truck series 100-lap feature at New Asheville Speedway
Saturday night - finished second to winner Terry Labonte in the Bristol Winston Cup race.
Sunday morning - ventured to Milwaukee to start fourth and finish third in the ASA race at the Milwaukee Mile.
Sunday night - stopped back in at the Highland Rim Speedway near Goodlettesville, Tenn., to start third and finish second in the 200-lap NASCAR All American Challenge Series feature.
Bobby Allison was, is...and always will be one of my biggest personal heroes.

We invite you to visit BA's site on the web at:




Follow the No. 22 Shell-Pennzoil Dodge Team on Twitter



2012 Shell Pennzoil Team Roster




Donohue
1973 Matador